12 novembre 2009
Salut toi qui passe par hasard, ou qui est revenu de ton plein gré (ou non).
Desormais la suite de mes aventures ca se passe ICI (http://urbanistablog.wordpress.com)
Pour des raisons esthetiques, techniques, pratiques bref plein de raisons.
Viens voir par toi meme comment c'est plus joli !!!
11 novembre 2009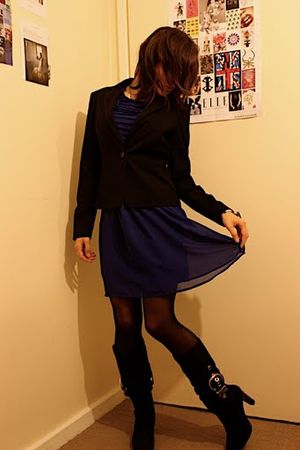 Je boude
Parce qu'aujourd'hui j'ai pas pu faire la grasse mat alors que je SAIS que tous mes potes sont en train de se rouler sous leur couette !
bref je BOUDE (mais je me suis quand meme habillée)
Robe Primark, Blazer H&M, Bottes Asos / Dress Primark, Blazer H&M, Boots Asos
10 novembre 2009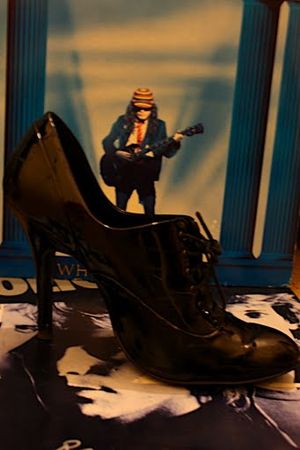 Hier j'ai balancé 2 paires de chaussures... Drame? Sacrilege? Non !! Elles etaient pourries et avaient bien vecue. Petit détail, il s'agissait de 2 paires de ballerines. Détail numero 2, c'etait mes SEULES paires de chaussures plates (hors unepaire de converses défoncées dont je ne me séparerais pas meme sous la torture et une paire de bottes).
Bref je suis officiellement une anti-plat... Et j'assume !!! Je trouve la vie plus belle 10 cm plus haut:
Dans le métro, je ne suis plus à "hauteur d'aisselles" et je peux respirer, même en plein été, un air beaucoup plus pur
De mon mirador je repère plus facilement mes proies (d'autres paires de chaussures évidemment), pratique pour sniper la dernière paire en 37
J'adopte spontanément une démarche plus élégante, port de tête altier, et quand je monte les marches du métro j'ai l'impression de monter les marches à Cannes (les flashs des photographes en moins)
Ca transforme même la tenue la plus simple en tenue glamourissime
Cendrillon elle a pas perdu sa converse si je me souviens bien...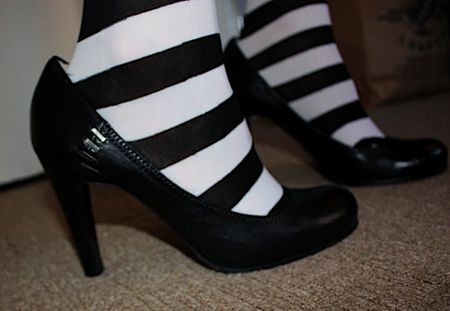 Yesterday I have thrown out 2 pairs of shoes… Drama? Sacrilege? NO!!! They were done, and had quiet life. One quick thing: it was flat shoes. Quick thing number 2, it was my ONLY flat shoes (except some waisted Converses but I would never give them away, even under torture, and some boots).
In short, I am officially an against-flats (or pro heels…). And I don't have any problem with that!! I found life better with a few more inches
In the subway, I am not at the "underarm height" so I can breathe, even during summer, an much cleaner air ;)
From my mirador I can target my preys much more easily (other shoes of course), quiet useful to snipe the last pair in 4
I instinctively adopt a much elegant walk, head high, and when I walk up the stairs in the subway, I feel like I am walking up the stairs in Cannes (the flashes of photographers less)
It gives the simplest outfit a "glamourissime" touch
And if I remember correctly, Cinderella didn't lost some sneakers...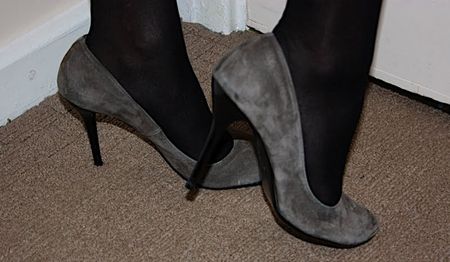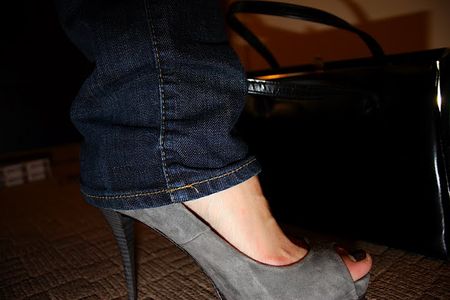 De haut en bas: Richelieues Zara, Escarpins Marc by Marc Jacobs, Escarpins Osmose, Low boots Zara, Peep toes Zara, escarpins Zara
For Top to bottom: Zara, Marc by Marc Jacobs, Osmose, and low boots, peep toes and pumps Zara
05 novembre 2009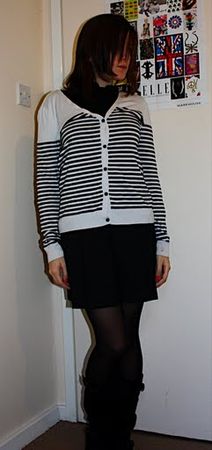 Hier soir, j'ai fait une virée chez New Look, la premiere depuis que je me suis installée à Londres, avec une idée bien prescise en tete (mais ca c'est pour demain). En me balladant dans les allées, j'ai repéré cette paire de bottes parfaites: noires, plates, qui arrivent juste sous le genou... Parfaites je vous dis !!
Last night, I went to New Look, for the first time since I moved to ondon, to find someting in particular (but that's for tomorrow). And then, I noticed those perfect boots: black, flat, just under the knee... Perfect I told you !!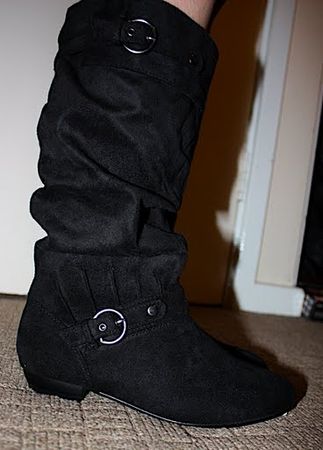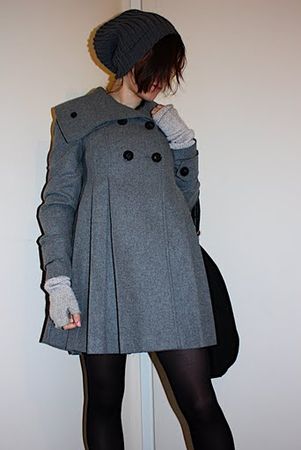 Robe Zara, chemise Lacoste, gilet H&M, bottes New Look, manteau Asos, bonnet Primark, sac et mitaines H&M / dress Zara, shirt Lacoste, cardigan H&M, boots New Look, Asos Coat, gloves and bag H&M
04 novembre 2009
Est ce à cause de la pleine lune ? j'ai des bouffées d'Halloween qui remontent... Ca plus le fait que j'ai pas réussi à fermer l'oeil de la nuit (merci la pleine lune!), en m'habillant ce matin j'avais 2 imperatifs
Pouvoir mettre mes collants Beetlejuice
Quelque chose de simple, pas trop compliqué
Et... TADAM !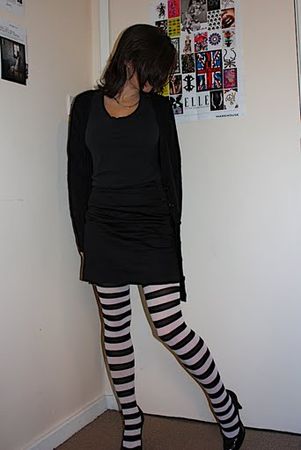 Is it because of the full moon? I feel like I'm breathing the Halloween spirit again... Also I couldn't sleep last night (thanks to the full moon), so when I dressed up this morning, I wanted only 2 things
To wear my beetlejuice tights
something easy, not complicated
and... TADAM !!!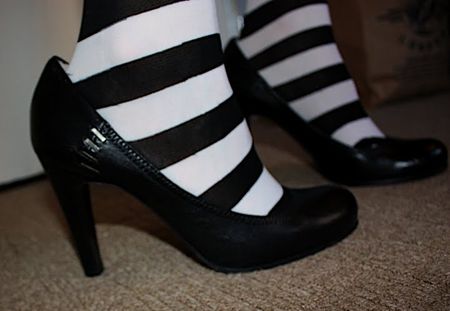 T-shirt Sud Express, Gilet Oversized H&M, Jupe et collants Asos, Escarpins Marc by Marc Jacobs / T-shirt Sud Express, Oversized Cardigan H&M, Skirt and tights Asos, Pumps Marc by Marc Jacobs
03 novembre 2009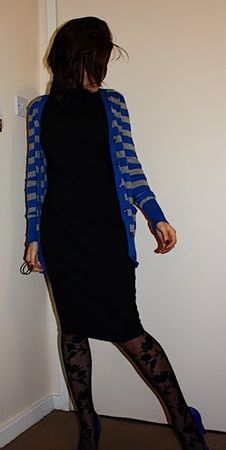 "T'es super classe aujourd'hui", premiere chose que j'ai entendu de la journée, dans la cuisine au moment ou j'attaquais mon bol de rice krispies (celles qui font du bruit quand on verse le lait dessus !!!). Ca fait toujours plaisir! Chic je sais pas, mais j'ai ressorti une des robes du fond du placard pour agrementer mes derniers achats Urban Outfitters: oui la tenue se choisit en fonction des chaussures et pas l'inverse chez moi ;)
"You're really classy today", those are the first words I heard today, in the kitchen, while I was about to start my rice krispies (yes, the ones that make noise when you add the milk!!!). It's always pleasant. I don't now if I'm that chic, I justed pulled out a dress from the back of the closet to go with my last UO's purchases: yes I choose the outfit because of the shoes and not the opposite ;)
Robe Zara, Gilet Primark, Collants et chaussures Urban Outfitters / Dress Zara, Vest Primark, Tights and shoes Urban Outfitters
02 novembre 2009
Aujourd'hui c'est lundi!! Non c'est pas ravioli (je vous vois venir...), c'est encore mieux que ca !!! Aujourd'hui en principe, je recois mon colis de chez Urban Outfitters !!!
En attendant je survis avec le peu de fringues qui me reste: ces derniers jours de maladie m'ont encore fait fondre, et tous mes jeans et pantalons fetiches sont devenus trop grands !!! Pas juste un peu, je FLOTTE littéralement dedans (snif...).
Today, it's monday, and it is a good day !!! Because today, I'm supposed to receive my last Urban Outfitters order !!!
For the moment, I'm trying to survive with the stuff I have: being sick the last few days, I have lost weight AGAIN, and all my favourites jeans and trousers are much too big for me now, and not only a little, you could put another one like me inside !!! (snif...)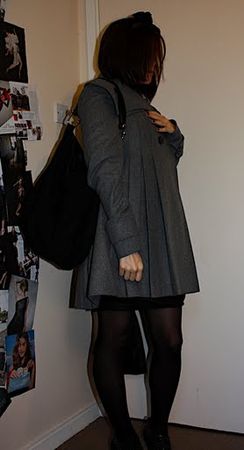 Chemise Zara, Jupe Asos, Veste H&M, Serre tete Accessorize, Manteau Asos, Sac H&M, Lowboots Zara / Zara shirt, Asos skirt, H&M Jacket, air band Accessorize, Asos Coat, H&M Bag, Zara low boots
01 novembre 2009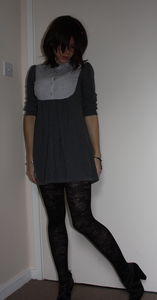 C'était un lendemain de fête, j'étais épuisée, un de mes potes me propose de sortir et je lui dis que ça va pas être possible. "Ben je croyais que t'étais rock n roll!!", ma réponse "je me mentais"... En fait je me mentais pas tant que ça ;)
Hier soir j'ai explosé les compteurs de rock n roll et cool attitude. De toutes les soirées Halloween qui étaient organisés à Londres, j'ai atteris dans la plus cuir, la soirée des Hells Angels. Les Hells Angels de Londres ont une maison, à Hackney, pas très loin de chez moi. Ma colloc m'a proposé d'aller la bas, et c'est pas souvent qu'on reçoit ce genre de proposition, j'ai sauté sur l'occasion. Maintenant je pourrais me la raconter jusqu'à la fin des temps "ouais alors j'étais à Londres, chez les Hells Angels..." AWESOME !!
Pour rester dans l'esprit rock n roll, un petit look plus glam rock et le tout à moins de 100£ (encore moins si je change de chaussures hihi!!)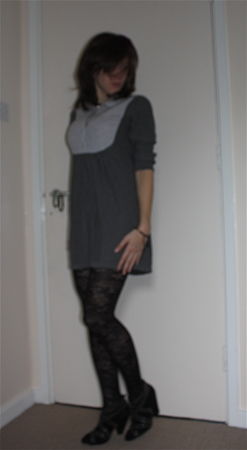 Robe Topshop 8,5£ sur Ebay, collants Primark 2£, boots Zara 55£, Serre tête Asos 2£
27 octobre 2009
En France ELLE est plutôt un magazine que lirais ma mère (bon en fait elle le lit vraiment). Mais ici, avec Lindsay Loha en couverture et des photoshoot avec Peter Doherty et Pamela Anderson, le doute n'est plus permis: IL EST POUR MOI !!!
Je pourrais passer des heures à lire (ou plus exactement regarder les images) ce magazine. Ok c'est pas Vogue, mais ils font quand même de p*tain de photos !
Comment lutter? Bon allez, je me lance quand même !!
In France ELLE is the fashion magazine that my mum would read (and is reading actually!). But here, with Lindsay Lohan on the Cover, or photo shoot with Peter Doherty and Pamela Anderson, there is no doubt: IT IS FOR ME !!!

I could spend hours reading (well more exactly looking at the pictures) that magazine. It is not Vogue ok, but they're still making f*cking good photos

How can I compete with that? Oh let's try anyway !!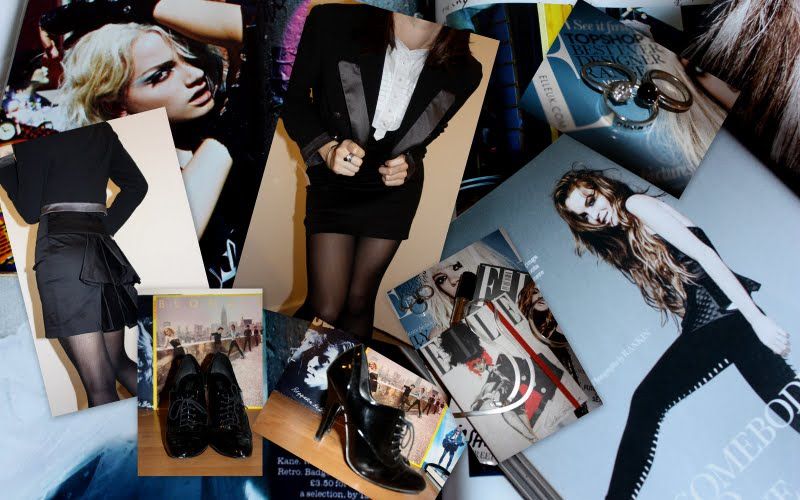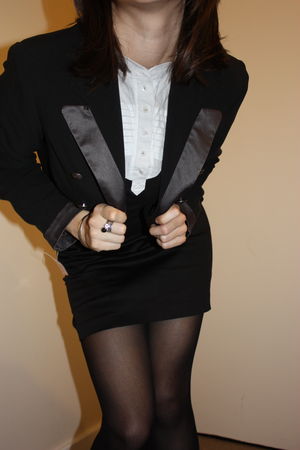 Jupe Asos, Top Zara, Veste Primark, Richelieu H&M, bagues Marc Jacobs et H&M
Asos Skirt, Zara Top, Primark Jacket, Zara Shoes, Rings Marc Jacobs and H&M
26 octobre 2009
Si j'etais la version UK de Gossip Girl, j'habiterais une super maison à Mayfair avec my own private buttler. Malheureusement, c'est pas le cas, mais j'adore quand meme me ballader dans ce quartier, surtout quand le soleil est de la partie !!! Qui a dit qu'il pleuvait toujours à Londres ???
Et qui dit Gossip Girl, dit tenue de circonstances ;)
Robe H&M, Escarpins Osmose