02 novembre 2009
Aujourd'hui c'est lundi!! Non c'est pas ravioli (je vous vois venir...), c'est encore mieux que ca !!! Aujourd'hui en principe, je recois mon colis de chez Urban Outfitters !!!
En attendant je survis avec le peu de fringues qui me reste: ces derniers jours de maladie m'ont encore fait fondre, et tous mes jeans et pantalons fetiches sont devenus trop grands !!! Pas juste un peu, je FLOTTE littéralement dedans (snif...).
Today, it's monday, and it is a good day !!! Because today, I'm supposed to receive my last Urban Outfitters order !!!
For the moment, I'm trying to survive with the stuff I have: being sick the last few days, I have lost weight AGAIN, and all my favourites jeans and trousers are much too big for me now, and not only a little, you could put another one like me inside !!! (snif...)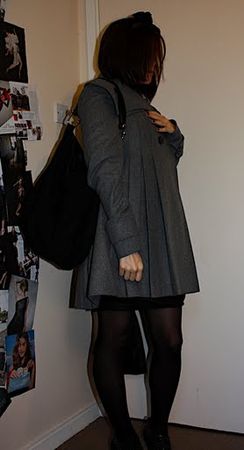 Chemise Zara, Jupe Asos, Veste H&M, Serre tete Accessorize, Manteau Asos, Sac H&M, Lowboots Zara / Zara shirt, Asos skirt, H&M Jacket, air band Accessorize, Asos Coat, H&M Bag, Zara low boots
Commentaires sur Back to work a...